Bulgarian cuisine is one of the tastiest in Europe as it is a colorful combination of traditional local dishes, Balkan tastes and many Oriental elements. Besides if you are wine lover you should surely try a homemade red or white wine as Bulgaria has extremely fruitful grape regions with a long historical tradition in the wine production – grape type as Mavrud and Shiroka melnishka loza are cultivated in Bulgaria only! Very interesting thing is there are many restaurants in Sofia working twenty-four-hours so they are ready to meet you even at 6 a.m. after the strong night party. Below you may find some recommended places where to stop and try very delicious meals. Enjoy it!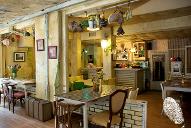 We highly recommend Made in Home as the food indeed is more than delicious, the interior is vintage (one of the tables is actually a real door) and the location is very central. The dishes are innovative and the menu provides various type of cuisine – traditional Bulgarian meals, fish and seafood, fusion kitchen, vegetarian food and a lot of homemade sweets. The place is within a walking distance to each Vip Apartment but if you prefer to have a dinner there it's better to make a preliminary reservation as usually is very busy at night.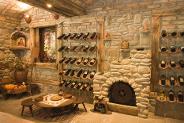 This place is one of the top ranked restaurants in Sofia - here you will discover the authentic Bulgarian food as well as traditions and atmosphere. This is one of the few places in Sofia where you will become an eyewitness to the great Bulgarian tradition named "Nestinarstvo" – barefoot people dressed with traditional Bulgarian clothes dance on a fire. The experience is extremely curios and we strongly recommend it. The food itself is really delicious – here you can taste typical Bulgarian specialties like meat on plate, fire or oven, baked bread with spices, local desserts. The restaurant is located in the beginning of Vitosha mountain where you will enjoy fresh air, beautiful nature and amazing views to Sofia city – especially at night. Reservation is needed. www.vodenitzata.com
It's located on the main pedestrian street in Sofia – Vitosha boulevard and is very close to our apartments, especially to Denkoglu and Karnigradska Apartments. The restaurant itself is very cozy and will make yourself at home – it is equipped with arm-chairs, wall pictures, vintage closets and dressers and a lot other vintage details. The menu is very rich and colorful - you will enjoy a lot of interesting and delicious meals which are combination of authentic Bulgarian cuisine, vegetarian and meat meals, rise dishes, fresh Italian pasta and pizza. Accept the advantage and make this journey of flavors – you wouldn't regret! Check their website here - www.shtastliveca.com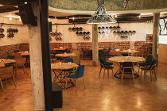 This place is brand new, modern and trendy and is located in a small quite street right next to the Palace of Justice. The restaurant is quite different as presents the vast Space and the sacrifice geometry and it show our country like the part of this cosmos space. The kitchen is Bulgarian but is deflected through a modern conception and is mixed with the global one within a very fine way. The music is local but in combination with other modern music styles and is full with new techniques and instruments – same like with the food. The cocktails often are with local spices and a big part of the carefully selected boutique wines are made by Bulgarian producers.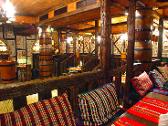 This Bulgarian restaurant combines authentic atmosphere, dishes from old recipes and a folklore spirit. The atmosphere offer real Bulgarian comfort and turning back in time to roots and traditions. In the decoration you can see woodcarvings, wooden old vats, Bulgarian garbs, wooden wheels and many others. If you are in Sofia during the summer you can enjoy the cozy outdoor garden. The meals are traditional – here you can taste lamb tongue, chicken or pork specialties, classic Bulgarian desserts, good wine and also Bulgarian rakia. The restaurant is with very central location – on Hristo Belchev street which is parallel to the pedestrian Vitosha boulevard. Check their website here - www.izbite.com/bg